Dynamic Island stays on top of it all.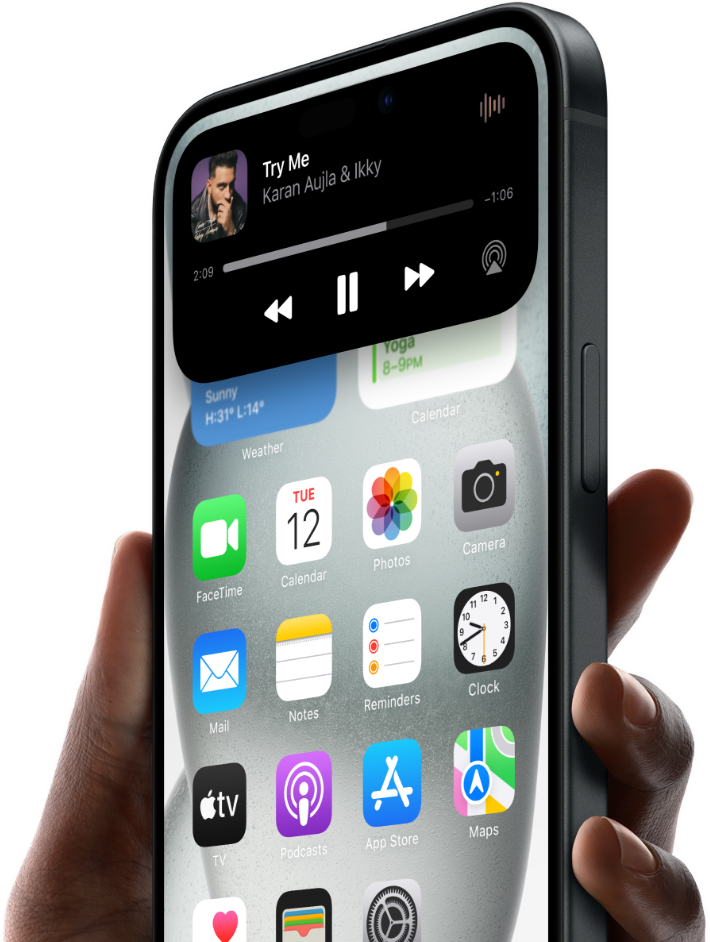 Durable colour-infused glass and aluminium design.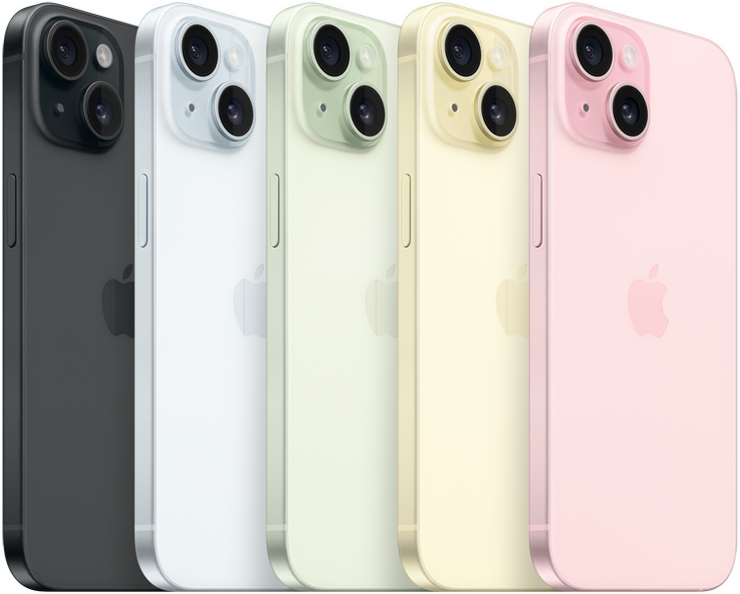 15.54 cm(6.1″)
iPhone 15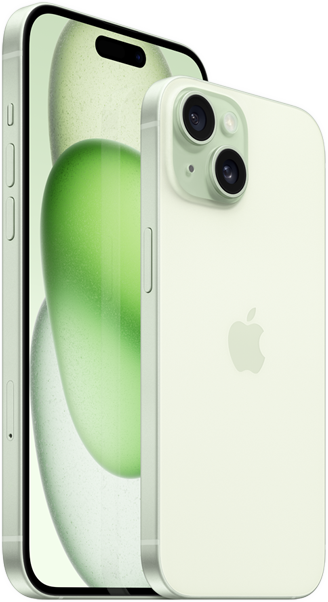 17.00 cm(6.7″)
iPhone 15 Plus
48MP Main camera
Super-high-resolution photos. 2x Telephoto.
Next-generation portraits.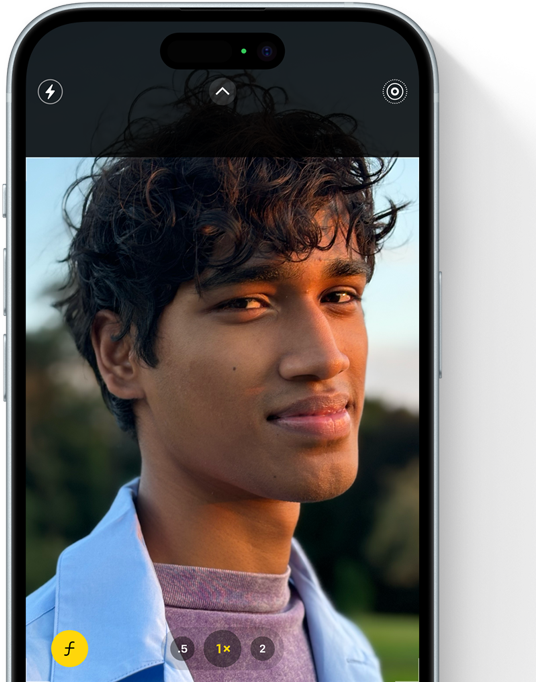 All-day battery life. For all the things you want to keep doing.
Upto
26 hours
video playback on iPhone 15 Plus.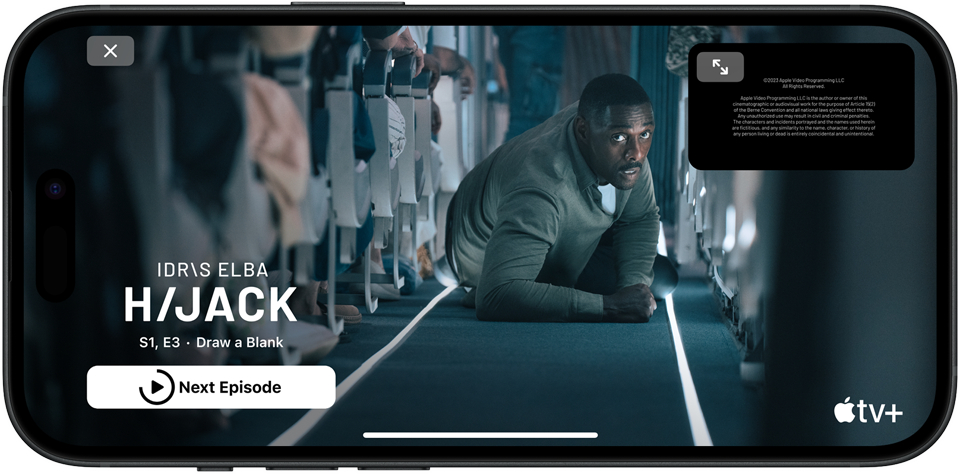 Upto
20 hours
video playback on iPhone 15.
A16 Bionic chip
A Pro-proven powerhouse.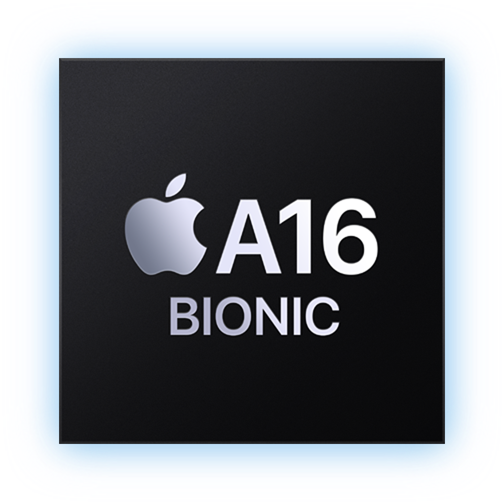 Charging as easy as USB-C.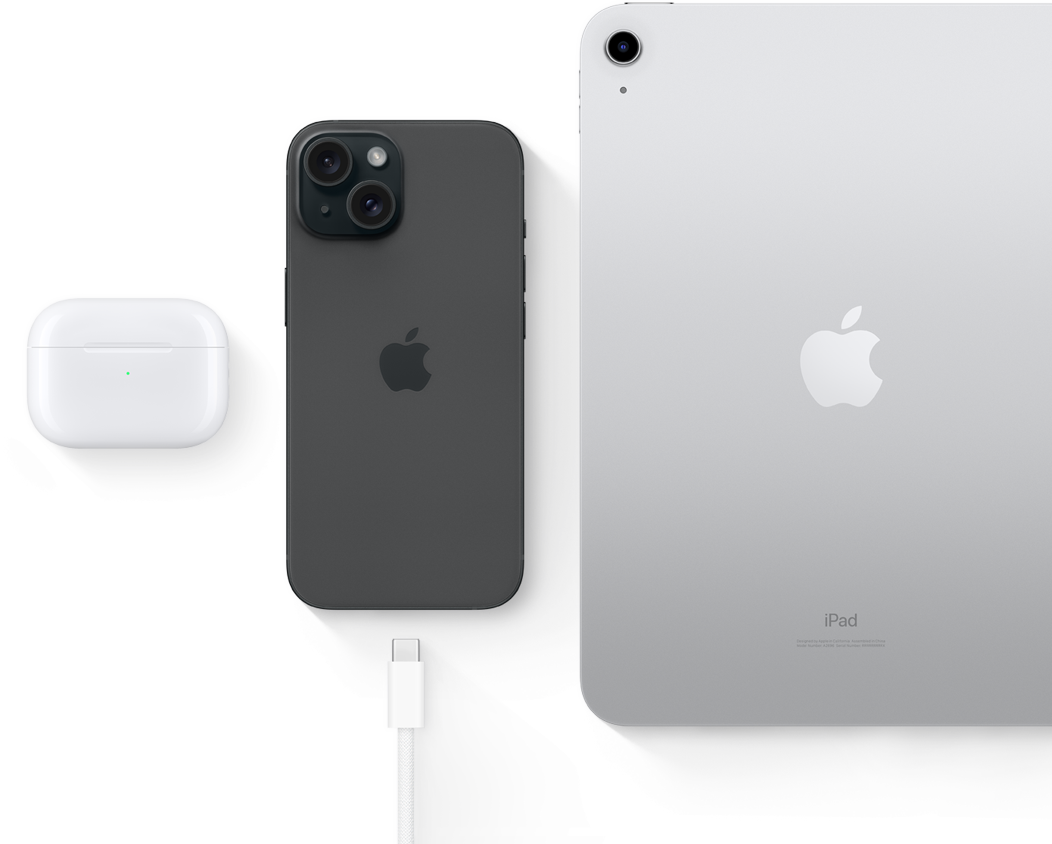 Crash Detection.
iPhone 15 can call for help in a severe car crash.

The enclosure of iPhone 15 has 75% recycled aluminium.
Designed to make a difference.

Privacy.
That's iPhone.
From Passkeys to Privacy Reports to the Health app, iPhone helps keep you in control of what you share.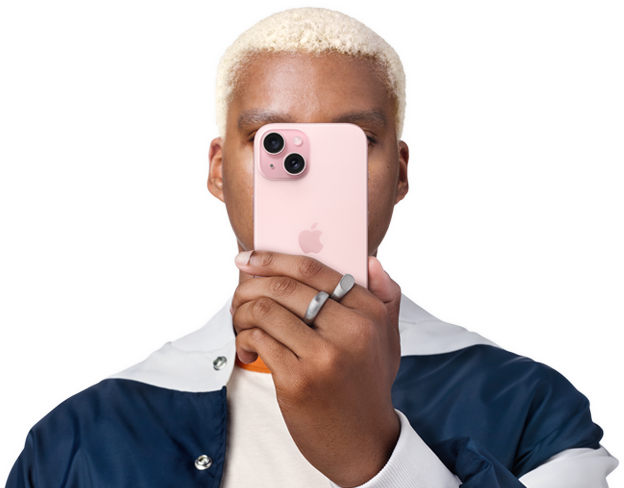 iPhone for all.
iPhone contains built-in accessibility features like Magnifier, VoiceOver and Assistive Access, which help users with cognitive disabilities tailor apps and experiences.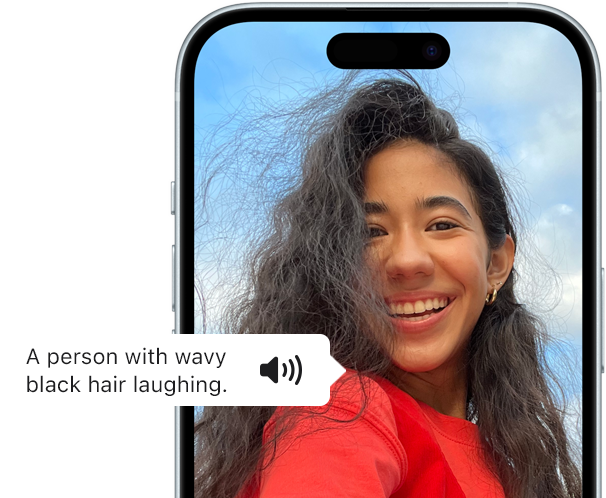 Easy to upgrade. Simple to switch.

Upgrading from another iPhone?
Just put your old iPhone next to your new one, and with a few taps you can transfer your data automatically.

Switching from an Android phone?
When you buy a new iPhone, the Move to iOS app makes it easy to transfer your photos, contacts and more.
Even More to Love
MagSafe accessories
Snap on a magnetic case, wallet or both.
A colourful ecosystem of accessories for effortless attachment and faster wireless charging. With endless ways to combine, there is a mix to match any style.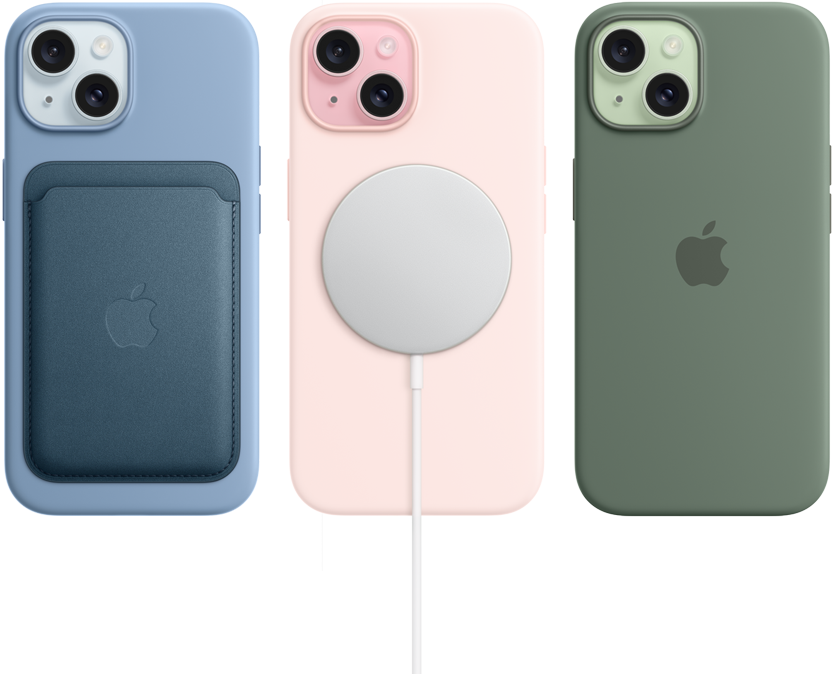 Buy an iPhone and get 3 months of Apple TV+ free.
New Apple Original series and movies every month.
Stream on the Apple TV app on Apple devices, smart TVs, consoles or sticks.
Share with up to five family members.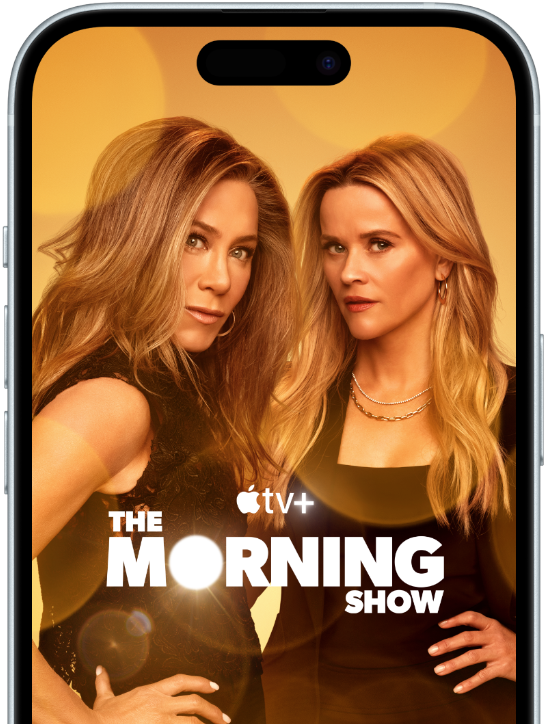 AppleCare+
Expert support, extended coverage.
Apple-certified service
Priority access to technical support
Accidental damage protection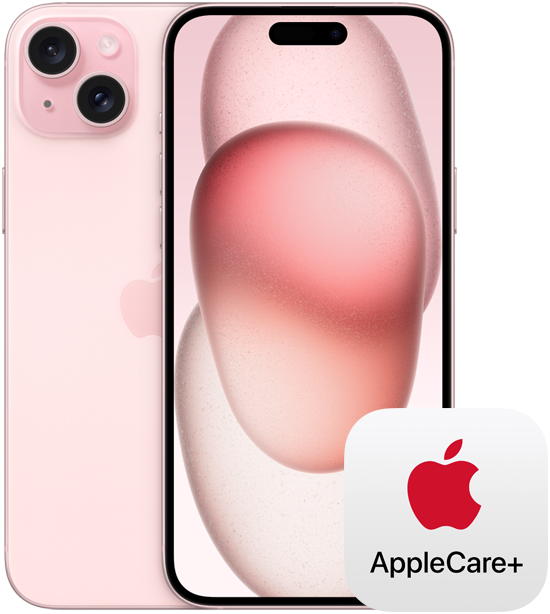 Legal Disclaimers
Display Size: The display has rounded corners that follow a beautiful curved design, and these corners are within a standard rectangle. When measured as a standard rectangular shape, the screen is 13.76 cm / 5.42″ (iPhone 13 mini, iPhone 12 mini), 14.86 cm / 5.85″ (iPhone 11 Pro, iPhone XS, iPhone X), 15.40 cm / 6.06″ (iPhone 14, iPhone 13 Pro, iPhone 13, iPhone 12 Pro, iPhone 12, iPhone 11, iPhone XR), 15.54 cm / 6.12″ (iPhone 15 Pro, iPhone 15, iPhone 14 Pro), 16.40 cm / 6.46″ (iPhone 11 Pro Max, iPhone XS Max), 16.95 cm / 6.68″ (iPhone 14 Plus, iPhone 13 Pro Max, iPhone 12 Pro Max) or 17.00 cm / 6.69″ (iPhone 15 Pro Max, iPhone 15 Plus, iPhone 14 Pro Max) diagonally. Actual viewable area is less.
Power and Battery: All battery claims depend on network configuration and many other factors; actual results will vary. Battery has limited recharge cycles and may eventually need to be replaced. Battery life and charge cycles vary by use and settings. See apple.com/in/batteries and apple.com/in/iphone/battery.html for more information.
USB-C: The USB-C Charge Cable included with iPhone 15 models is compatible with AirPods Pro (2nd generation) with MagSafe Charging Case (USB-C).
Crash Detection: iPhone 15 and iPhone 15 Pro can detect a severe car crash and call for help. Requires a cellular connection or Wi-Fi calling.
USB 3: USB 3 cable with 10 Gbps speed is required.
Cellular and Wireless: Data plan is required. 5G, Gigabit LTE, LTE, VoLTE and Wi-Fi calling are available in selected markets and through selected carriers. Speeds are based on theoretical throughout and vary based on site conditions and carrier. For details on 5G and LTE support, contact your carrier and see apple.com/in/iphone/cellular.
MagSafe Accessories: Colours are for illustrative purposes only. MagSafe accessories are sold separately.
Apple TV+ Offer: New and qualified returning subscribers only. ₹99/month until cancelled. One offer per Apple ID and Family Sharing group. Terms apply; see apple.com/in/promo.
Apple TV+: Apple TV+ requires a subscription.
Feature Availability: Some features may not be available for all countries or all regions.